K8HS Hydraulic oil cleaning system for controlling hydraulic force electronic control engine
1.Equipment composition and features
・Meets ISO code 16/13 in degree of cleanliness of oil
・"Hybrid type" bypass filter that uses a notch wire type main filter and a precision cartridge type super fine filter (SFF)
・Ecologically-friendly design: requires no power source, air supply and electronic control panel
・Evaluation and analysis of the energy consumption and carbon dioxide emission have been conducted from the design, procurement and manufacturing stages
・Notch wire element has a semi-permanent service life
・SFF cartridges have a long service life (more than 1 year of successful use on test ship)
・Acquired type approval of MAN Diesel & Turbo in May 2013 after roughly 1 year of onboard demonstration test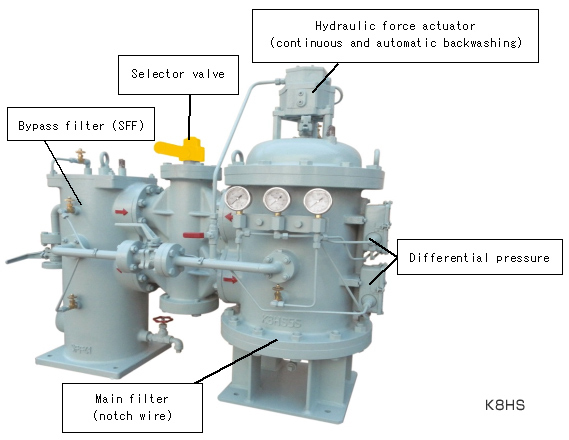 2.Filter operation procedures
【Initial operation】
Eliminate the abrasion powder generated at initial operation with the bypass filter
【Normal operation】
After switching to normal operation, continuously eliminate the micro particles generated by the engine with the main filter's continuous and automatic backwashing and the bypass filter's backwashing oil treatment

K8ES Engine mounting horizontal continuous andautomatic backwashong lubricating oil filter
・Compact ecological design
・Evaluation and analysis of the energy consumption and carbon dioxide emission have been widely conducted from the design, procurement and manufacturing stages
・Requires no separate power source as it uses a hydraulic force actuator
・Clogging hardly occurs as it uses a continuous backwashing method
・Can be applied not only for new engines but also for existing ones by changing the manual backwashing method to the automatic backwashing method, contributing to labor savings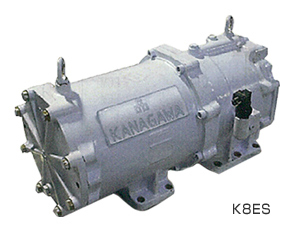 K8E(Manual,continuous,and automatic backwashing lubricating oil type filter)
This filter is provided in a series of wide range for main equipment lubricating oil. The multi-cylinder layout of the elements will raise the backwashing efficiency, and the energy-efficient actuator operated by hydraulic force after filtration will reduce the initial and running costs.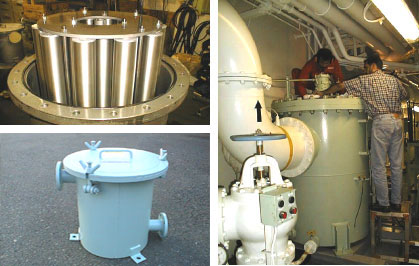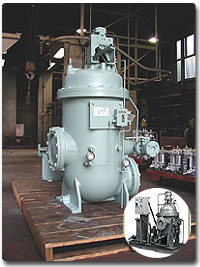 K-OL(Manual backwashing-type duplex lubricating oil filter)
With a simple structure and comparatively small capacity, this filter is easy to install because it takes up very little space. The changeover cock on the front side makes manual backwashing and open cleaning simple.