Magnet filter
Our magnet filter has an innovative combination of detachable external permanent magnets and insertion-type inner magnetic materials, so that orthogonal magnetic lines can act on ferromagnetic substances on fluid or fine particles to eliminate metal particle. Because the magnetic substances are placed in parallel with the fluid or fine particles, giving a structure that makes the best use of the contact surface, the filter can improve the acquisitive magnetic capability and achieve a process line guaranteeing the highest quality.
Strong magnetic filter for sanitary field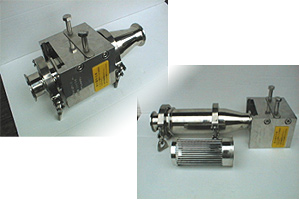 【Advantages and specifications】
(1) This filter is detachable. When the magnet is attached, the magnetic force is turned on, and the magnetic substances are magnetized; when the magnet is detached, the magnetic force is turned off, and the magnetic substances are demagnetized. The filter can easily be cleaned by water washing or air blowing in the demagnetized state.
(2) Because parallel magnetic substances placed with equal spaces generate many magnetic fields in the flowing direction, the filter provides dramatically higher capture capabilities than bar magnets, making it possible to obtain stable magnetic force and effects.
(3) The filter is made of stainless steel and available for use in such fields as foods, soft drinks and cosmetics.
(4) By adjusting the distance between magnetic substances, the filter can support a wide range of applications.
Strong magnetic filter for steel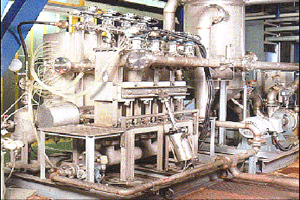 【Advantages and specifications】
Requirements for the galvanized steel sheet surface quality are becoming more severe with each passing year. Plating errors, which are a quality defect, are frequently caused by residual iron particle or oil content on the original plate. Alkaline cleaning is performed to eliminate iron particle and oil content, but the high concentration of iron particle in alkaline cleansers lowers the cleaning capacity. Conventionally, barrier filters, magnetic filters or centrifugal separators have been used to solve this problem by eliminating iron particle from the alkaline cleaner, though this method has a disadvantage of increasing the cost of facilities and management despite low efficiency in iron particle elimination. We have developed a highly efficienct magnetic filter that lowers the cost of facilities and management while maintaining low iron particle concentration in alkaline cleansers.